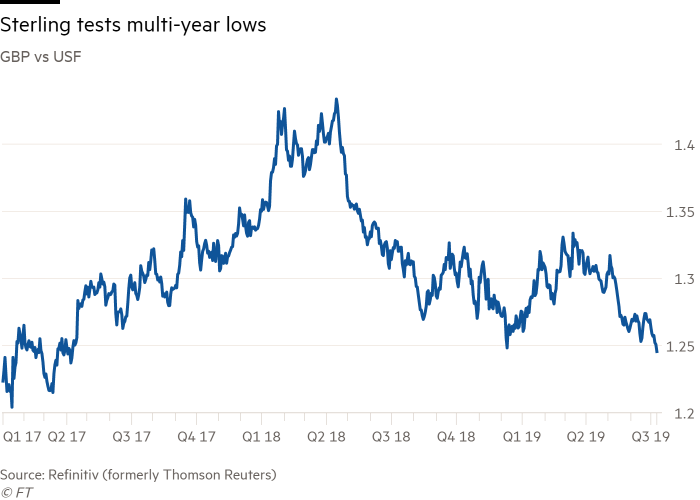 Britain's currency fell on Tuesday to levels last regularly traded more than two years ago amid persistent uncertainty over Brexit and its effects on monetary policy.
Sterling fell as much as 0.38 per cent to $1.2463 on Tuesday. It marked the lowest point for the currency since April 2017, excluding a 'flash fall' that took place this January. The pound also fell on Tuesday against the euro, leaving it at €1.1123.
Lee Hardman, currency analyst at MUFG, said the fall below $1.25 may "open the door to a potential retest of the lows from late 2016 and early 2017 at closer to the $1.20-level as we head into the crunch autumn period."
"At the current juncture, it is difficult to see a potential trigger that could result in a sustained reversal of the current bearish trend of the pound," he said.
Mr Hardman added that "UK economic fundamentals have weakened sharply in recent months" and that the Bank of England has signalled it may "adopt a more dovish tone at their upcoming policy meeting in August."
Markets are now pricing-in odds of roughly 40 per cent that the BoE will reduce its main lending rate by the end of this year, according to Bloomberg data on overnight index swaps. While other major central banks are also expected to loosen monetary policy, growing expectations for a BoE reduction have removed another potential support for the currency, analysts have said.
More to come…