With little fanfare, Britain's competition watchdog is seeking a revolution in the regulation of markets where it fears consumers are being ripped off by companies providing essential goods and services.
The Competition and Markets Authority has made the case for placing caps on the prices paid by consumers in markets where they have rolling contracts — ranging from financial services to telecoms.
The CMA has concluded that economist Adam Smith's "invisible hand" — the theory that free markets will set the right price — actually needs a helping hand from watchdogs in consumer-facing industries.
Andrew Tyrie, CMA chair, thinks the complexity of modern markets means everyone can be a "vulnerable consumer", particularly where loyalty to one supplier of goods or services can be penalised with high prices. "There is huge detriment here: we will persist," he told the Financial Times.
Last week the CMA said it expected sector regulators including the telecoms watchdog Ofcom and the Financial Conduct Authority to take "strong action" on the so-called loyal penalty, including considering "targeted price caps" where necessary.
This comes after the CMA last December estimated that in five markets — broadband, mobile phones, household insurance, mortgages, and savings accounts — the loyalty charge was costing consumers £4bn a year, on a combined basis.
The CMA pledged action after Citizens Advice lodged a "super complaint" with the watchdog about the loyalty penalty that accused companies of seeking to attract new customers with low "teaser" prices on the expectation that they will be exploited in subsequent years as charges rise — often steeply.
Citizens Advice said the penalty amounted to almost £900 a year per customer across the five markets.
The CMA's willingness to countenance price caps would be a new departure for financial services, and reverses a 30-year direction of regulatory travel in utilities, including gas, electricity and telecoms.
After the energy and telecoms companies were privatised in the 1980s and 1990s, regulators gradually relaxed strict price controls in favour of ensuring competition between suppliers. More recently, they have taken steps to enable consumers to switch between suppliers.
New evidence from the introduction of a price cap in energy markets in January tentatively supports the CMA's latest thinking.
Contrary to fears that the cap on standard variable tariffs might deter consumers from switching providers, officials at the energy watchdog Ofgem have been encouraged by the initial response to the reform, which suggests price intervention can complement competition.
In the first two months after the introduction of the cap, there was a rise in the number of consumers willing to switch providers — Ofgem expected a 30 per cent fall. There was also no decline in suppliers willing to price their tariffs below the cap.
Ofgem officials continue to monitor the cap's impact, but evidence such as this is likely to increase the pressure on other regulators to intervene on prices.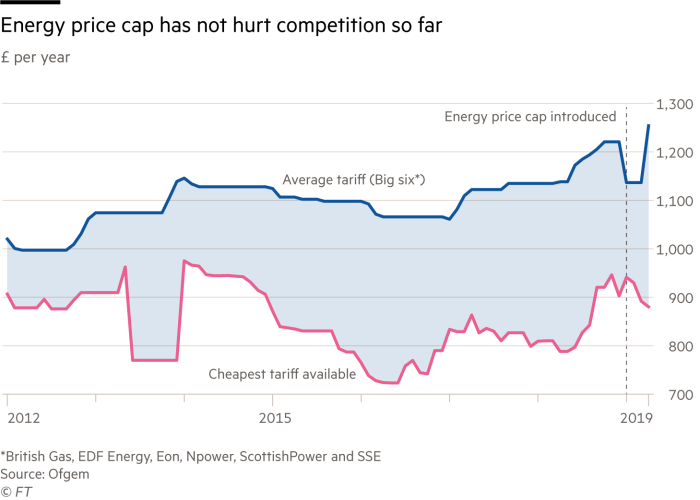 Citizens Advice is calling on Ofcom to force mobile phone operators to charge customers on monthly contracts lower fees once they have paid off the cost of their handsets.
The charity also wants the FCA to consider banning "price walking" — where renewals of car and home insurance involve price rises far above inflation every year.
The CMA's stance is also hardening: last week it criticised these sector regulators for being slow to take action.
"Regulators need to recognise the scale of the loyalty penalty and its impact in their markets, and to design effective interventions that help those consumers who are most in need, particularly the vulnerable," it said.
The CMA also welcomed the government's plans on giving it "judge and jury" powers to fine companies that overcharge or mislead customers.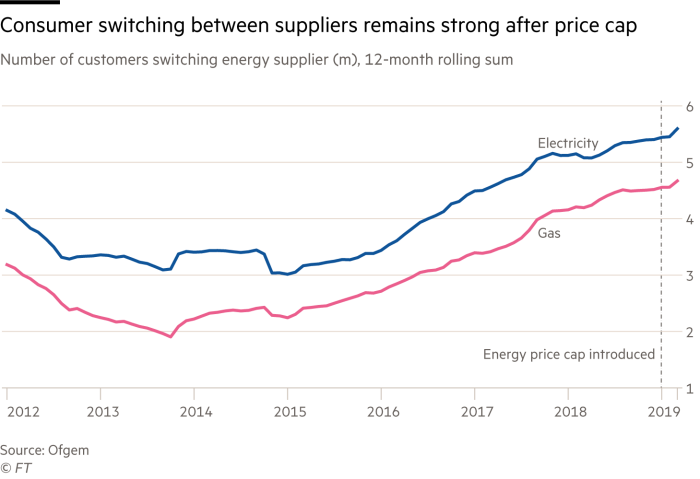 Ofcom and the FCA have taken some action. Last month Ofcom announced new rules forcing telecoms companies to alert customers when their contracts are coming to an end and that better deals might be available.
In March the FCA began a consultation on new rules that would allow so-called mortgage prisoners — people whose fixed-term deals have come to an end and their circumstances force them on to expensive standard variable rates of interest — to switch providers when they are up to date with their payments.
Experts are far from unanimous in thinking that companies in consumer-facing industries are seeking to exploit customers.
Stephen Littlechild, the electricity regulator for most of the 1990s, told the FT that the calculation of a consumer detriment of £4bn relies on believing that companies can profitably continue with teaser rates indefinitely.
Defending these prices, he said "the lower initial price is evidence of strong and imaginative competition to enable more customers to realise that the product is good value".
Prime minister Theresa May has supported action to tackle consumer rip-offs by instigating the energy price cap, and it is unclear whether her successor — Boris Johnson or Jeremy Hunt — will offer similar backing.
One Downing Street official said that the CMA was running at "light speed" compared with efforts by the Department for Business to modernise consumer markets, notably through a green paper published last year.
Citizens Advice welcomed the CMA's response to its super complaint, but criticised sector regulators including Ofcom and the FCA.
"Customers continue to be penalised simply for being loyal to their provider," said Gillian Guy, the charity's chief executive. "It seems little progress has been made by the regulators."