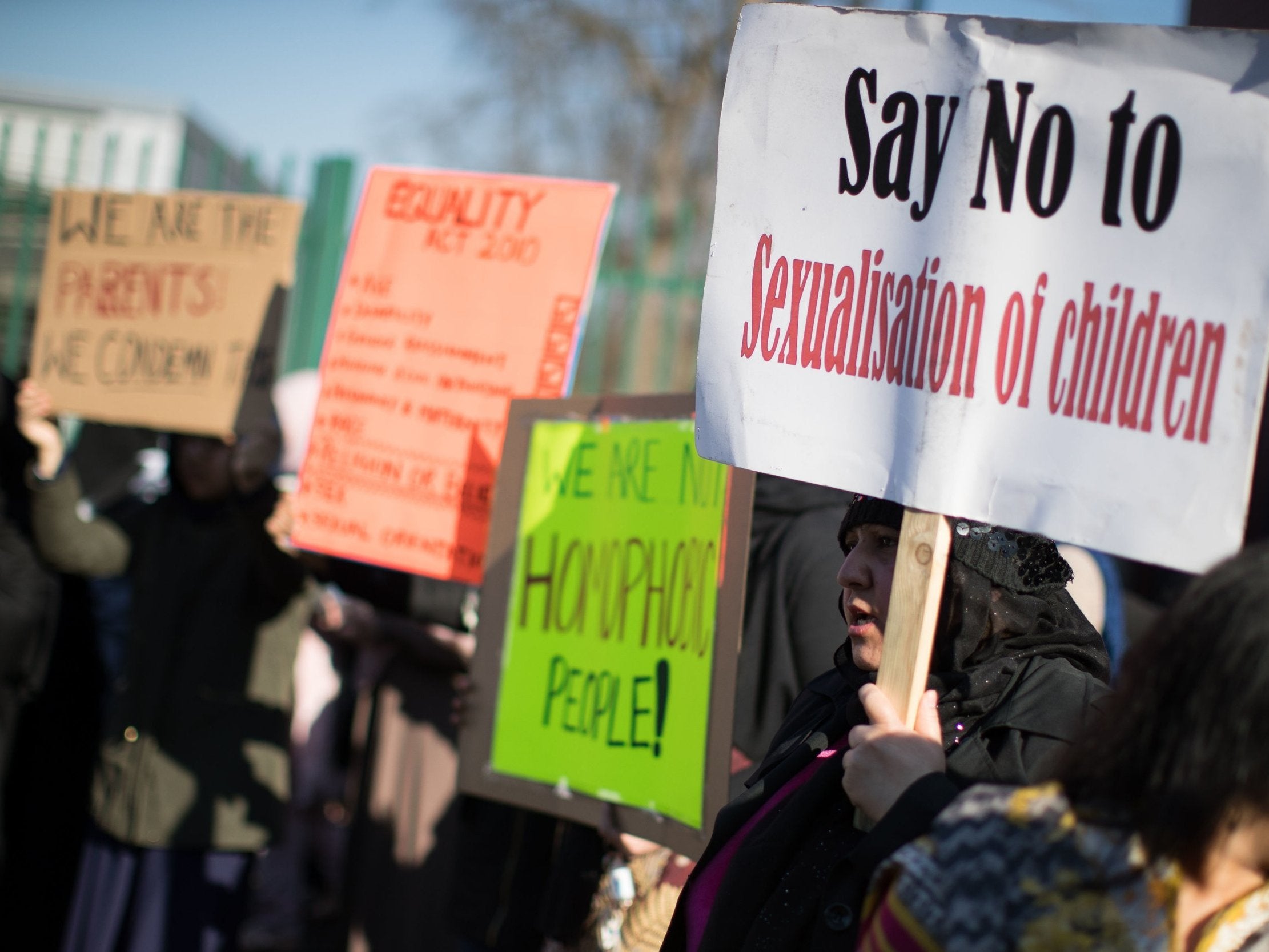 Protests against LGBT+ equality lessons have been permanently banned from outside a school in Birmingham.
The High Court ban includes an exclusion zone surrounding Anderton Park Primary School which has faced regular demonstrations for teaching pupils about the existence of same-sex families. 
Mr Justice Warby QC said the ongoing protests outside the school's gates had "a very significant adverse impact" on pupils, teachers and residents.
In June, Birmingham City Council was granted an order temporarily banning protesters from outside the school over safety fears.
Now the High Court in Birmingham has made the ban permanent against protesters Shakeel Afsar, Amir Ahmed and Rosina Afsar, as well as "persons unknown".
It comes after a five-day hearing last month saw the local authority seek a permanent order to protect the school from further protests.
Recounting claims made by protesters, including one that the school had a "paedophile agenda" and that staff were "teaching children how to masturbate", the judge said: "None of this is true."
Mr Justice Warby added that what was being taught at the school had been "misrepresented and misunderstood" by the protesters.
He said there had been leaflets handed out "suggesting the school was promoting homosexuality – which is not the case."
"This judgment notes that the true position has been misrepresented, sometimes grossly, in the course of these protests," he added.
On the ruling, Paul Whiteman, general secretary of school leaders' union NAHT, said: "This judgement makes it abundantly clear that the school gate is no place to hold a protest.
"These protests have been widely and rightly condemned and they should now be brought to an end with immediate effect."
He added: "Dedicated public servants faithfully discharging their duty have an absolute right to feel confident and safe, pupils should never have to walk past noisy and aggressive protests on their way to school.
"We will continue to support schools where disagreements persist because diversity and equality are a matter of fact and a matter of law and learning about equality and diversity is not optional."
A Department for Education spokesperson said: "We've long said we want to end these protests and encourage positive dialogue, so we welcome the High Court's decision today.
"We continue to work with the school and parents to encourage positive and constructive engagement."
Additional reporting by Press Association