For the thousands of rail passengers who were stranded on trains scattered across Britain last Friday evening, a £2 charge might have seemed a bargain to escape their predicament.
Energy analysts have estimated that is all it would cost, added to an average annual household energy bill of more than £1,200, to prevent the kind of power cuts that incapacitated large parts of England and Wales.
The power cuts hit rail services alongside almost 1m homes and businesses, and are now the subject of a government investigation that is raising far reaching questions about National Grid's ability to manage Britain's electricity system.
The FTSE 100 company responsible for operating the UK's power infrastructure has promised to deliver its initial findings into what went wrong to ministers and the energy regulator Ofgem by the end of this week. 
The official probe is focused on why the failure of two power generators — a gas-fired plant near Cambridge and an offshore wind farm in the North Sea — was enough to unleash a large-scale blackout that affected cities as far apart as London and Newcastle.
Crucially, the investigation will ask whether National Grid has a sufficient buffer of rapid-response back-up power supplies to prevent similar outages in the future, particularly as the UK increases its reliance on renewable energy such as wind and solar.
John Pettigrew, National Grid's chief executive, has portrayed the incident as a once-in-every-30-years event from which the company quickly recovered.
He has tried to focus attention on why regional network operators — which supply electricity to homes and businesses taken from National Grid's core network, and determine who is disconnected in a blackout — allowed trains and even one hospital to be hit.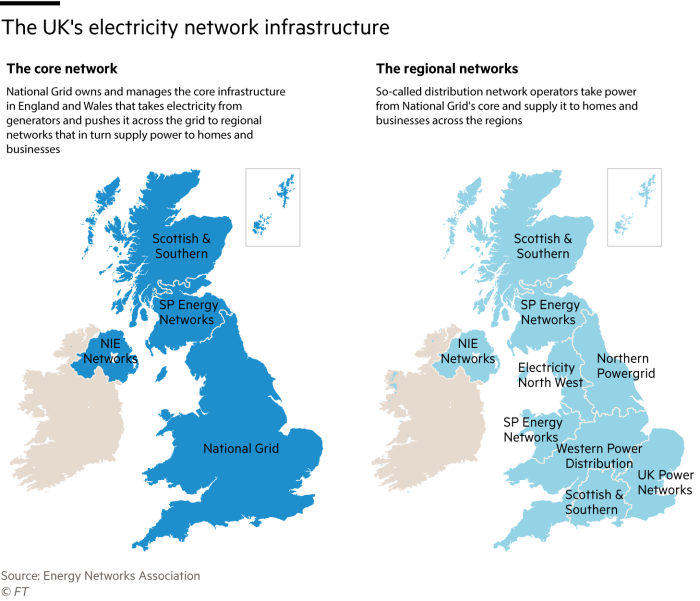 But Mr Pettigrew has conceded that spending more on back-up power technology, which kicks in within seconds of a generator going offline to stabilise the electricity system, could be one outcome of the investigation.
"You could hold more [back-up power] . . . there's no doubt that you could. [But] customers would pay for that," he told the Financial Times. "So, in effect, the question that I'm sure the investigation will look at is: it worth spending hundreds of millions of pounds more per annum to reduce the risk of a once in 30 years event?"
Electricity experts are increasingly arguing that it is.
National Grid spends £170m a year contracting owners of technology such as batteries to be ready in the event of a sudden drop in frequency — a measure of power intensity on the company's network — to quickly help stabilise the electricity system. 
Harry Sturgess, an associate at Aurora Energy Research, said doubling the amount of rapid-response back-up power would add £2 to the average annual household energy bill. He added there is a growing need to be "prepared for every possible eventuality". 
"We have seen that even short outages cause high levels of disruption and associated cost if key infrastructure such as airports, hospitals and railways are taken out," said Mr Sturgess.
Others argue that National Grid should foot the bill to secure more rapid-response back-up power, rather than households. The opposition Labour party, which has proposed state ownership of the company, has criticised the level of National Grid's payouts to shareholders and suggested those funds should be spent improving energy infrastructure.
The other area that will likely influence the outcome of the investigation is whether the failure of the two power generators in quick succession was linked.
If it was, National Grid's argument that Friday's blackout was "rare and unusual" could be severely weakened.
The two generators failed within minutes of one another on Friday afternoon, suddenly and unexpectedly removing nearly 1.48 gigawatts of power generation from the system and causing a sharp plunge in frequency to 48.8 hertz — a level that triggers National Grid's automated system to cut off electricity supply to around 5 per cent of demand.
National Grid's operating licence stipulates it should maintain the frequency within a band of 49.5-50.5 hertz during normal operations, although it has to plunge lower before there is any risk of blackouts.
RWE, the German owner of the gas-fired power plant near Cambridge, blamed its failure on a "technical issue", which it argued is not "uncommon".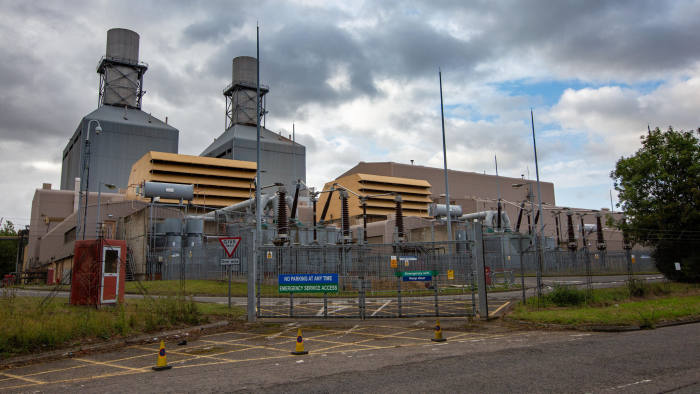 Orsted, the Danish utility that owns the giant Hornsea wind farm off the Yorkshire coast, has said only that it is investigating the cause of the failure.
But some analysts have speculated that the failure of the RWE plant and the consequent fall in frequency may have in turn wrongly prompted the Orsted wind farm to automatically go offline as a self protection measure.
Two power plants have failed simultaneously before, in 2008 when the Sizewell B nuclear plant in Suffolk and the now closed Longannet coal-fired station in Fife went offline within minutes of one another.
National Grid is keen, though, that the investigation shifts beyond just the causes of Friday's blackout and examines the knock-on effects. Mr Pettigrew said trains and hospitals should never have been affected when its automated system kicked in, cutting off supply to 5 per cent of electricity demand. 
He insisted his company does not make the decisions about who and what precisely are affected by outages — this happens at the regional level and is the responsibility of the so-called distribution network operators. "National Grid doesn't have visibility of the specific demand that is being reduced," said Mr Pettigrew.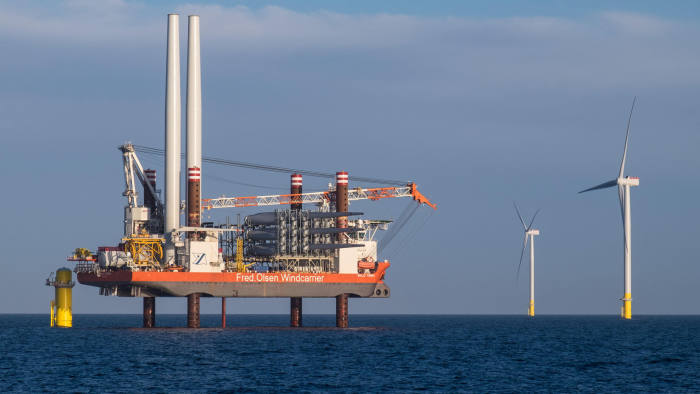 One person familiar with the distribution network operators said their systems should have prevented trains and hospitals suffering power failures on Friday.
But UK Power Networks, the operator covering the south-east of England and whose customers were among those affected, said that from its perspective the loss of power was down to National Grid. "We were not aware of any issues with our systems," said the company in a statement, adding it was "unable to comment on why the trains were not able to operate quickly after this event".
Renewable energy increases volatility on grid
Questions have been asked in the aftermath of Friday's blackout about whether Britain's electricity system has become more volatile because of the increasing contribution of renewable power sources, such as wind and solar.
When a wind or solar farm fails, the frequency of the electricity system can drop very quickly away from the 50 hertz level at which National Grid tries to stabilise it in order to avoid damage to equipment or, in the worst cases, power cuts. By contrast faulty coal or gas-fired plants normally take longer to cease generating electricity entirely. 
Analysts at energy consultancy Cornwall Insight have suggested there have been greater movements in National Grid's system frequency in recent years. 
"Frequency is deviating more to the left and right of 50 hertz than it was before and that is because the system is more volatile and it is more challenging to balance it," said Tom Edwards, analyst at Cornwall Insight. 
He added this doesn't "actually matter", as long as the frequency of the system remains within safe limits and National Grid is able to quickly stabilise it.
National Grid has said it does not believe "at this stage" that the greater use of renewables had anything to do with Friday's blackout.
John Pettigrew, chief executive of National Grid, insisted the volatility of the system "hasn't changed".
However, he did acknowledge that the company has had to alter its approach to how it manages frequency in recent years, using technologies such as batteries to provide rapid-response back-up power to help stabilise the system.