Lewis Capaldi has slashed every item at his official online store to £10 or less – and it is selling out rapidly.
He began by slashing the price of the final copies of his Breach EP, tweeting: "Last ever copies of Breach EP on CD with someone you loved & grace on… going live on this link right now & have made them £1.99 for the first 50 of ya!!!"
But then Capaldi tweeted that he'd reduced the price of all items, including t-shirts, hats, socks, EPs, stickers and plenty other things.
The Bathgate singer's fans then began reacting online as items sold out rapidly – some delighted, others frustrated.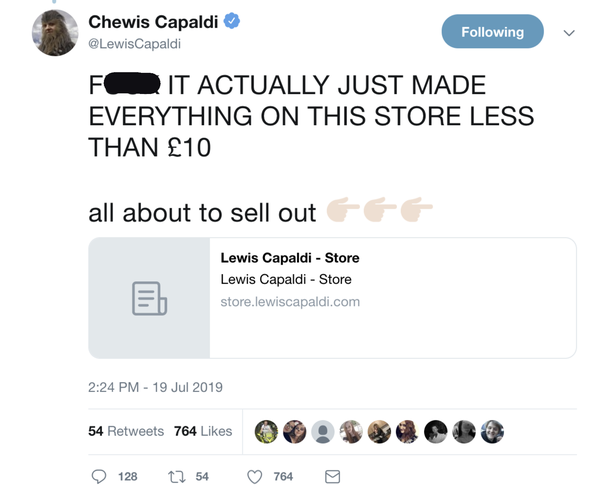 emerald_cascade said: "Thank you so much!"
jessleadmakeup wrote: "Obvs you had to do this when I'm skint…"
Emily_Tuck_xo tweeted: "I love this guy!"
Daviecorr said: "Site's down bro you just broke the interwebs!"
eillomcxo wrote: "No small T-shirt's left, f*** me right."
ShieldsBlake1 joked: "Ibiza was expensive I see!"