Investors in Britain's energy network companies are unlikely to receive compensation based on market value when the businesses are nationalised by a future Labour government, according to a new paper by the opposition party.
Jeremy Corbyn, Labour leader, will set out on Thursday how a government led by him would nationalise Britain's energy networks — the cables and pipelines that deliver electricity and gas to homes and businesses — soon after winning a general election.
The Labour paper said that shareholders would be compensated, but not necessarily at market prices — because of deductions to take account of "asset stripping since privatisation", state subsidies since the 1980s and pension fund deficits.
The investor compensation would come from bonds issued by the Treasury, adding billions of debt to the state balance sheet.
Labour is planning to nationalise the energy, rail and water industries, plus Royal Mail, as part of a radical domestic reform agenda.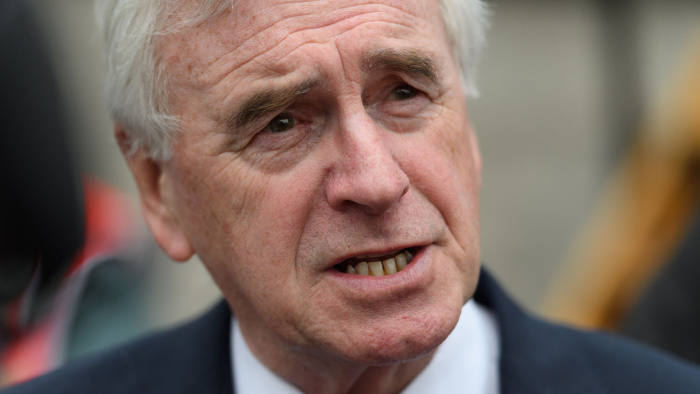 John McDonnell, shadow chancellor, confirmed last week that the next Labour government would pay less than £15bn to investors when it renationalises England's water industry.
That figure is broadly based on estimates of the book value of the 15 English water companies' shareholder equity. By contrast, the water industry commissioned a study last year that suggested a cost of £44bn to compensate shareholders based on market value.
Britain's gas and electricity networks are large monopolies owned by listed companies such as National Grid, SSE and Iberdrola, as well as sovereign wealth funds and infrastructure investors. National Grid alone has a market capitalisation of £29bn.
They generate their revenues from consumers who are charged through their energy bills.
Network companies have come under growing scrutiny for what consumer group Citizens Advice has called "eye-watering" and "unjustified" profits.
Dieter Helm, an Oxford university academic, has previously criticised the "significant financial engineering" by network companies since privatisation, and the money that has been extracted by investors through dividends and share buybacks.
Ofgem, the UK energy watchdog, has sought to address concerns by proposing to slash roughly in half the amount that gas and electricity transmission networks can pay their investors from 2021.
But the Labour paper said the arrangements needed a total overhaul because "gaming and profiteering" were "intrinsic" parts of the current system. "The status quo is no longer tenable," it added.
The paper is due to be launched by Mr Corbyn and Rebecca Long-Bailey, shadow business secretary.
She will argue that nationalising the energy networks would end "rip-offs" in the system and allowing a faster shift towards low-carbon power.
Labour argues that only a state-owned energy system will be capable of upgrading infrastructure to integrate huge amounts of wind, solar and tidal power.
Labour has also indicated the party would nationalise Britain's interconnectors, the giant power cables that allow the import and export of electricity.
Under the proposals, a Labour government would set up a national energy agency to replace National Grid as the operator of the high voltage transmission system.