Jean-Claude Juncker, European Commission president, has opened the door to a possible Brexit deal, saying he was ready to scrap the controversial Irish "backstop" if Boris Johnson came up with a viable alternative.
Mr Juncker's comments on Thursday were a clear invitation to the UK to come up with new ways of achieving the aims of the backstop — which seeks to avoid a hard Irish border — following warnings from EU politicians that talks were foundering.
He was explicit that Brussels was ready to rewrite the most sensitive parts of the Brexit deal it agreed with Mr Johnson's predecessor Theresa May, confirming a marked softening of the EU's position from this summer, when it said that the withdrawal agreement was not up for renegotiation.
Crucially, Mr Juncker said he was open to British suggestions that a hard Irish border could be averted by conducting customs and regulatory checks elsewhere and by aligning Northern Ireland with EU agriculture and food rules.
"It is the basis of a deal. It is the starting and the arrival point," he told Sky News, while cautioning that any solution must protect the EU's internal market "in its entirety".
Any solution must be as robust as the backstop, said Mr Juncker. "If the objectives are met — all of them — we don't need the backstop," he added.
The UK prime minister responded by telling Channel 4 News: "Now that is progress because they weren't saying that a month ago."
Indeed, only last month Mr Juncker said: "We have made clear that we are not prepared to hold new negotiations on the withdrawal agreement."
EU officials cautioned that the two sides remained far apart and that the window to reach a deal ahead of the scheduled Brexit date of October 31 is short.
Mr Johnson has yet to produce detailed proposals to replace the backstop and the ideas he has floated do not come close to meeting EU demands for a legally operable guarantee against the return to a hard Irish border.
However, he has sent Brussels three informal discussion papers — known in Brussels jargon as "non-papers" — setting out ideas for avoiding customs and regulatory checks on the border.
They include proposals for an "all-Ireland" regulatory regime for agriculture and food, with a mix of technology and trusted trader schemes to avert customs checks at the border.
Stephen Barclay, Brexit minister, will be in Brussels on Friday for talks with EU negotiator Michel Barnier about the British papers.
The UK plans "are contrary to single market integrity and disrupt north-south [trade] flows in Ireland, that is the bottom line", said one EU official.
Leo Varadkar, Irish prime minister, said: "I think the rhetoric has tempered, the mood music is good, there is a lot of energy and a lot of positivity. But when it comes to the substance of the issues that need to be resolved the gaps are still very wide and we've no time to lose."
However there are signs of movement. The Democratic Unionist party leader Arlene Foster said on Wednesday her party — which has opposed the backstop — was now prepared to accept Northern Ireland-only solutions, provided they did not infringe on the region's constitutional status within the UK.
The British prime minister held "positive" talks on the phone with Mr Juncker on Wednesday evening, according to Downing Street.
Mr Johnson is expected to send Brussels a detailed legal proposal to replace the backstop in the first week of October, once the Conservative party conference in Manchester is concluded.
However British officials said it was possible that the UK and EU would not be able to agree a "100 per cent legally operable text" in time for a key European leaders summit in Brussels on October 17-18.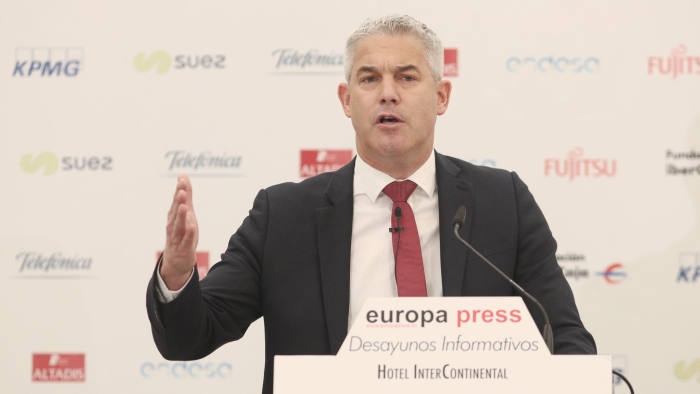 Mr Johnson's allies said some details might have to be considered after Britain leaves the EU, during the transition period that is scheduled to end in December 2020 but which could be extended until the end of 2022.
Mr Barclay, in a speech in Madrid, questioned whether the UK needed to produce a formal legal text before October 31.
However the EU has always insisted that it needs to have a legally watertight "all weather guarantee" against a hard Irish border before it signs off a withdrawal treaty with Britain.
Mr Barclay said a no-deal Brexit would be "mutual challenge" rather than just a UK problem.
He said potential delays in Calais of up to two and a half days could have an "impact on lorries with lettuce, tomatoes, cucumbers and raspberries, those travelling from Spain, an industry valued at around half a billion pounds a year".
Additional reporting by Mehreen Khan in Strasbourg, Daniel Dombey in Madrid and Arthur Beesley in Dublin