There are many familiar features and fixtures at the End of the Road Festival, the modestly sized four-day event in the grounds of an English country estate: the spoon-making workshop, the raclette stall, the sculpted animals and real-life peacocks sprinkled around the site, and the overheard remarks from festival-goers that speak of a particular demographic (this year: "I seem to have brought low-fat halloumi.").
Musically, too, there are regular fixtures. The Thursday evening headlining slot is normally taken by a band with psychedelic leanings to ease the frazzled minds of newly arrived festival-goers. This year it was Spiritualized who, with singer and bandleader Jason Pierce seated at the side of the stage, delivered music that emphasised the dreamy, sweet side of their repertoire, culminating in their glorious show-stopper, "Oh Happy Day".
Late on Saturday afternoon on the smaller Garden Stage, a slot is normally taken by an American band with a taste for fiendishly tricky time signatures; this year it fell to Black Midi, the US quintet who dashed and thrashed, their drummer snapping out funk-metal-prog rhythms.
Often there is an African band on the main stage on Saturday afternoon — a slot filled this year by the wonderful Kokoko! from the Democratic Republic of Congo, whose use of custom-made upcycled instruments (backed by a very high-tech synthesiser) echoes the trash aesthetic of African artists such as El Anatsui. Like their fellow Congolese Konono No.1, Kokoko! play music with no beginning or end, no verses or choruses — just layers of rhythm banged out on what looked from a distance like plastic bottles and tin cans, repeated motifs picked out on an electrified ngoni-type instrument, and vocals chanted, sung or rapped.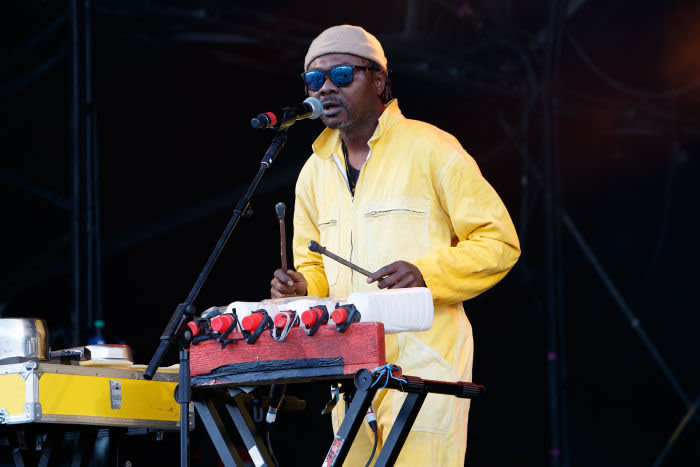 Music that crosses genres is another familiar fixture on the festival's schedule, and this year one example came from Kelly Moran, whose performance (sadly thin in attendance) featured preprogrammed washes of sound, semi-abstract visuals, and Moran on a synthesiser keyboard that sounded something like a hammered dulcimer. Phrases, themes and variations flowed with practised fluency from her fingers, bringing to mind Satie, Debussy and Glass: hypnotic.
The US trio Low are also familiar faces, having played the festival previously, and they put on quite a show: sepulchral lighting, disconcerting video projections, and deeply strange music that shifted simmeringly between tension and acceptance and even occasionally into ecstasy. The conventional ingredients of bass, drums and voices have seldom been used to create such abstract, unconventional music, at times shifting into pure noise, while the voices of guitarist and singer Alan Sparhawk and drummer Mimi Parker drifted and harmonised. Extraordinary music for an age of anxiety.
Another regular visitor is comedian and radio presenter Robin Ince, who delivered a typically rambling-yet-perfectly structured monologue that slalomed from the deliciously impish (impersonations of the TV presenter Brian Cox) to the unashamedly sentimental (fatherhood). Ince can be a splenetic performer but this year he steered clear of his "trigger" subjects (though you could sense his veins bulging as he veered dangerously close to Brexit), preferring to accentuate the positive.
It's a festival, then, that combines a comforting sense of familiarity with a sense of adventure as each year's line-up offers new discoveries. Another familiar feature is that it has a high proportion of female artists and this year, this was even more noticeable. While many festivals are still very blokey affairs — Reading and Leeds this year managed a reported 12 per cent of female artists — End of the Road is well on the way to parity. Indeed the three biggest acts on the main stage on Saturday — Goat Girl, Kate Tempest and Courtney Barnett — were female or female-dominated.
This is not just a matter of numbers or percentages, but of content, too. The performance by the Japanese-American singer Mitski, for instance, was in some ways fairly conventional guitar-rock; but her provocative outfit (tight shorts, knee pads, schoolgirl socks and shoes), her immaculately controlled, cool, erotically charged dance routines, performed using a wooden table and chair as props, and her rich, resonant voice brought a new kind of energy to the stage. She seemed to be arcing through a narrative as her quick-fire songs unfolded, one that told of self-doubt ("Nobody Wants Me"), neediness, emotional abuse, culminating in self-acceptance, signified by a jumping dance of joy. This was a weekend highlight, absorbing, thoughtful and challenging.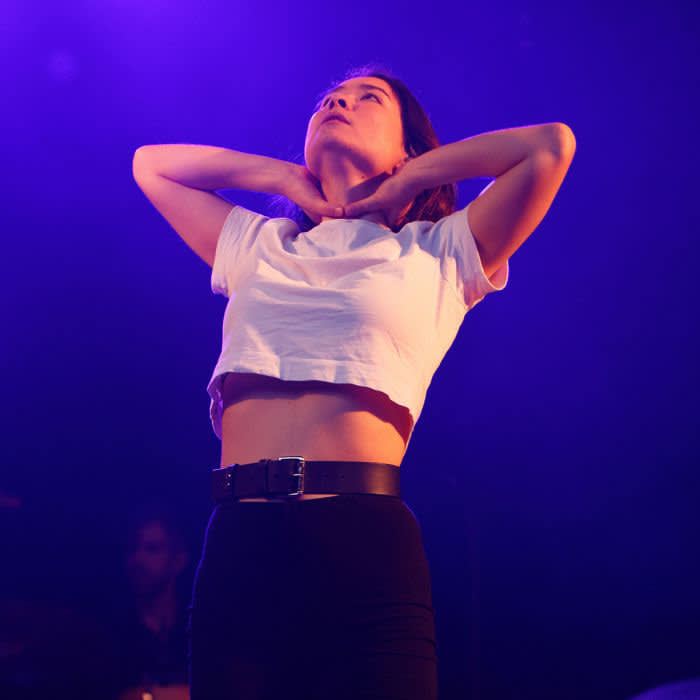 The all-female trio Let's Eat Grandma played with the conventions of pop performance, the two frontwomen skipping and playing handclapping games, hair billowing, while thunderous beats and synthesiser riffs juddered and thrummed. There was even a fleeting recorder solo in a set that was a study in contrasts: light and dark, girlish and grown-up, deafening and delicate.
The (mostly) female band Nérija, many of whose members are prominent in the new wave of British jazz, played a blood-quickening set on Saturday lunchtime (not the best time for jazz, it has to be said). Hard-driving rhythms gave the music an energetic edge, while the four horns collectively had a flavour of Afrobeat. Solos were intense and well constructed.
And then there was Kate Tempest, the performance poet and rapper, who was as heartfelt and heartbreaking as ever, the bleakness of many of her lyrics ("Massacres! Massacres! Massacres! New shoes!") leavened by an underlying sense of hope. Accompanied by a keyboardist/beatmistress, Tempest's words flowed with terrifying beauty, her tales of bleak real life making way for newer more symbolist and intimate material. She ended with "People's Faces", its fragile sense of hope and uplift bringing a tear to the eye.
The closing act on the Garden Stage is conventionally someone with pedigree. This year Jarvis Cocker amply filled the slot, although this was no heritage celebration of his past with Pulp. His new project, called Jarv Is, has been touring for some time and here they presented a show that was largely, and boldly, new material. And impressive it was, too, with songs such as "Am I Missing Something" tapping into contemporary neuroses in a typically Jarvisian fashion. Finally, and inevitably, he ended on a high note, of sorts, returning to a song from his 2006 solo album Jarvis, "Running the World": gloriously and with joy and exuberance, the crowd sang along to its seemingly timeless chorus — "C***s are still running the world."