General Overview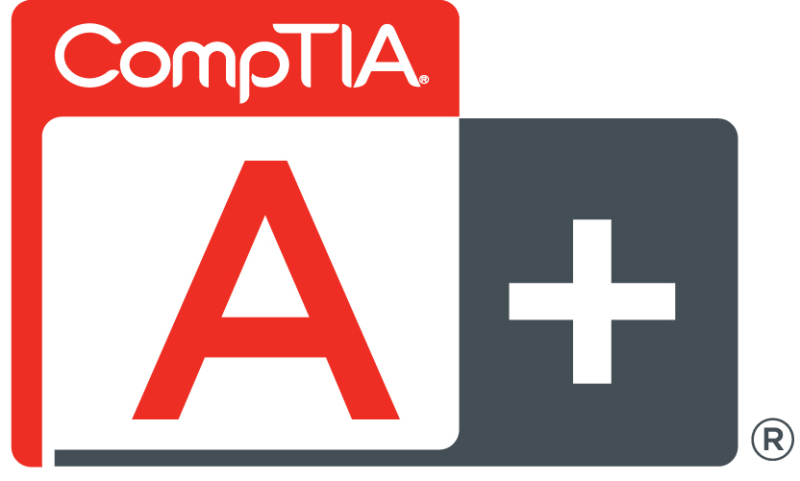 The latest Cyberstates statistics showed that 400,000 out of a total of 3.7 million job postings were for emerging technologies. This has led to the upcoming of a set of roles that require fundamental knowledge in cyber, cloud, data analysis, software development, and networking.
CompTIA certifications
CompTIA is a leading tech association and specializes as a vendor-neutral provider of IT certifications. It offers several world-renowned certifications covering a variety of specialization fields including cybersecurity, cloud, networking and more. Some of its certifications include; CompTIA A+, CompTIA Network+ and CompTIA Security+ among many.
Is CompTIA A+ for me?
The CompTIA A+ is designed to equip you with the necessary hard technical skills that the tech industry requires. So if you've got the necessary soft skills and are looking to start your career in the IT industry, then CompTIA A+ credential can offer you the right training and cover the necessary in-demand skills. Job roles include but are by no means limited to:
Support Specialist
Field Service Technician
Desktop Support Analyst
Help Desk Tier 2 Support
Why is CompTIA A+ so popular?
As with all certifications offered by CompTIA, the CompTIA A+ certification's curriculum resembles the latest and on-demand requirements of the IT industry.
CompTIA researches about and partners with, the tech giants and some of the Fortune 500 companies to make sure their certification and training are relevant. Companies such as Amazon have also incorporated the CompTIA A+ to train employees at specific job roles.
Vendor-neutrality can also have a great impact because it allows more flexibility to its clients. So switching between positions and taking different career paths is more viable. Microsoft, HP, Cisco, Novell, and many other companies recognize CompTIA A+ for their job roles.
A well-designed training program available to develop and enhance your skills. The program integrates essential academic knowledge along with practical aspects, which will have a positive effect on your career progress.
The CompTIA A+ Exam
There are no pre-requisites to apply for the CompTIA A+ exams but prior experience in a related field is recommended. The CompTIA A+ currently has two sets of exams you can choose from. The older version will be retired by end of July this year, and the latest version, launched in 2019, reflects on the latest trends in the industry. Each series has its own features and expansions of topic areas, so I recommend you pick which one best suits your needs. The exams that each of the sets consists are as follows:
900-series (Launched in 2015)
CompTIA A+ 220-901
CompTIA+ 220-902
1000-core series
CompTIA A+ 220-1001 (Core 1)
CompTIA A+ 220-1002 (Core 2)
Each exam consists of 90 questions and lasts for 90 minutes. The exams include MCQ, drag-and-drop, and performance-based type questions that will cover fundamental topics such as:
Mobile devices
Networking technologies
Installing operating systems
Security
Software Troubleshooting
Operational Procedures
I strongly recommend you visit the official CompTIA website or refer the Exam guide for detailed information. Upon completion, you will receive a score between 100-900 where 675 and 700 are the passing scores for exams 901 and 1001, and exams 902 and 1002 respectively.
Preparing for CompTIA A+
The benefits of A+ certification are definitely compelling but you do need to put in a lot of effort to reap those benefits. Here's a bunch of tips I believe will help you maximize your productivity.
Use official resources published and offered by CompTIA. The official material must be your main reference for study content and exam updates. Use the exam guide to familiarize yourself with the exam version you are applying for.
Follow a course in an accredited institution to gain extensive knowledge. There is a list of CompTIA accredited institutions closest to your region/country that provide training programs on the official website. The major plus point here is that, apart from the academics, you will also be able to get lab experience on the fundamentals.
Participate in study groups and online forums dedicated to CompTIA A+. These groups can not only be a great source of information from experts and test takers but can also help keep you motivated by engaging with peers of similar interests and career goals.
Practice can help you familiarize the question formats, better manage time, understand your strengths and weaknesses, etc. I've observed that most IT certification test takers tend to make use of exam dumps. They can save a lot of your time having to collect up-to-date and accurate questions. PrepAway is one such platform that offers quality exam dumps for popular IT certifications including CompTIA A+. So, PrepAway offers a set of files that can simulate the exam environment. The files are uploaded by the real exam takers, which means that they are the most updated. Moreover, this website offers you to download these dumps free of charge. If you need the files checked by IT experts, you can get them for a small sum of money. To sum up, PrepAway offers a considerable amount of exam files for free and also offers a well-reviewed premium package at a decent price.
Conclusion
In today's world, despite which field you wish to excel in, fundamental knowledge in hardware, networks, and software is essential. CompTIA A+ is the best qualification you can have to stand out amongst your coworkers. With the right amount of dedication and tools like PrepAway you too can reach to new professional heights.