When Jamie Oliver's UK restaurant chain collapsed into administration in May, some staff only heard they had lost their jobs when they arrived at work to find a note stuck to the door.
Yet those affected may not have been out of work for long. Within hours, rival chains were queueing up to hire them, with offers of guaranteed interviews.
Redundancy is never good news, but it is easier to deal with when the jobs lost are in a sector like hospitality contending with labour shortages.
Jobs have been plentiful in Britain in recent years. Employment has climbed steadily since 2013 to set new records, while unemployment is at its lowest level since the 1970s. Underemployment has also declined, with the proportion of part-time workers who want longer hours falling.
"Job insecurity was the scourge of the latter part of the 20th century . . . over recent years that scourge appears finally and thankfully to have lifted," said Andy Haldane, Bank of England chief economist, last month.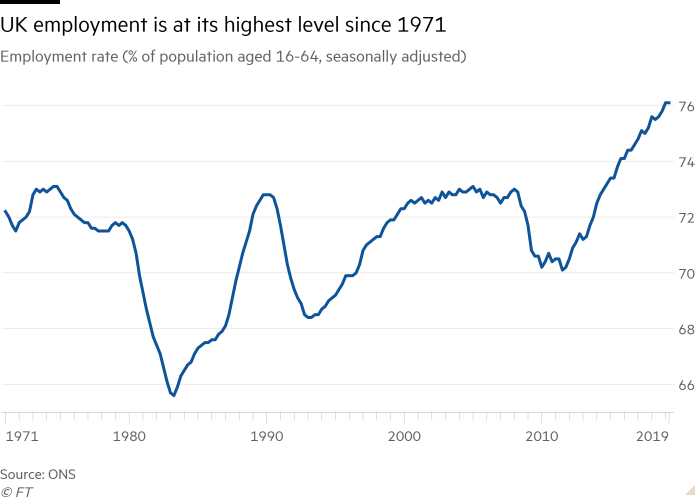 For much of the past decade, households have instead suffered from income insecurity, with pay stagnating in real terms and, for many workers, fluctuating from month to month — partly because of the rise of zero hour contracts.
Now, labour shortages are finally leading to higher wage growth: headline weekly earnings grew at the strongest pace since the financial crisis in the second quarter of this year.
But the prospect of a no-deal Brexit puts all this at risk. "The UK labour market looks like a sea of calm amid growing economic uncertainty both here and abroad," said Laura Gardiner, research director at the Resolution Foundation, a think-tank. "The question is how long this calm can be sustained."
The immediate concern is that a worsening economic slowdown will lead employers to stop hiring.
There are some signs in the latest data that the labour market is starting to cool. The unemployment rate ticked up to 3.9 per cent in the second quarter and the number of vacancies — which had been on the rise since 2012 — started falling at the start of the year.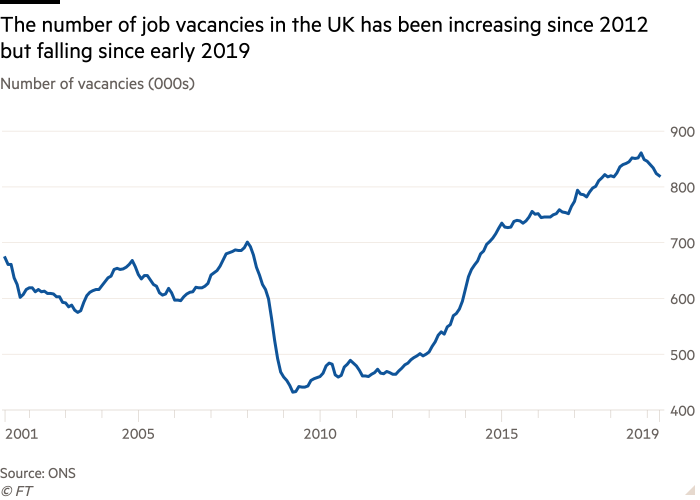 But the BoE believes the labour market is still tight enough to push up pay. Many sectors — including accommodation and food services, where the vacancy rate is highest — are still reporting staff shortages. Job-to-job flows, a measure of how many people have recently switched employers, are close to pre-financial crisis rates — suggesting that companies are having to compete to hire staff.
Philip Shaw, economist at Investec, said that "labour demand is softening modestly" but that "historically low levels of unemployment are likely to prevent a significant dip in pay growth".
But he added: "Of course, if the UK leaves the EU without a deal, this scenario becomes far from assured."
Even with the growing risk of a no-deal Brexit, because prime minister Boris Johnson insists the UK will leave the EU with or without an agreement on October 31, the labour market might prove resilient in the short term.
Some economists believe Brexit uncertainty is one reason employment has continued to rise: companies may be responding to demand for their goods and services by hiring, which is relatively easy to reverse in a downturn, rather than committing to long-term investment.
Both public and private sector employers may also need extra people to prepare for the possibility of the UK crashing out of the EU.
However, a disorderly Brexit would be likely to hit jobs before long. Mark Carney, BoE governor, warned this month — with a reference to the car industry in particular — that it would affect "very big industries . . . where things that are now highly profitable become not profitable" and a "substantial number" of businesses might no longer be economic.
This would be the worst-case scenario: the destruction of big manufacturers that support thousands of jobs through their supply chains in a concentrated geographical area with few other large employers.
Even if the UK avoids a no-deal Brexit and a deep downturn, some economists are also concerned that the recent improvement in pay growth will prove unsustainable because it has not been matched by a similar rise in productivity.
Britain's output per hour worked fell in the three months to June — the fourth consecutive quarter of decline.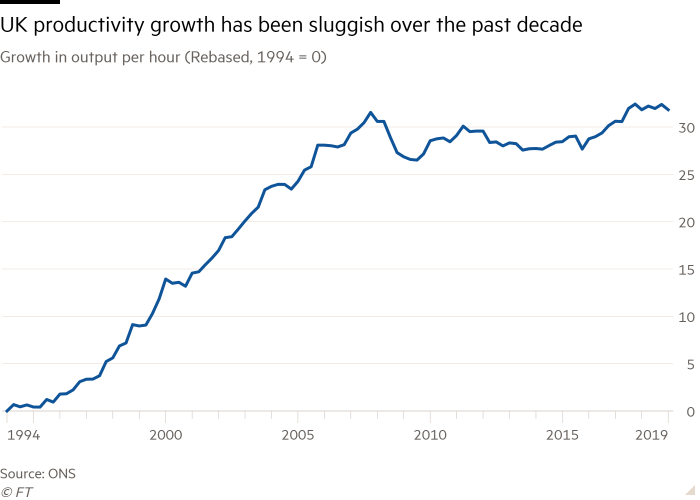 Employers are offering higher pay at present to recruit in a tight labour market but, without a recovery in productivity growth, they will not be able to afford to keep raising wages — at least not unless they pass on the costs in the form of higher prices.
That is why the BoE believes it will need to raise interest rates to contain inflation after any Brexit deal that keeps the economy broadly on track.
In its August inflation report, the central bank's forecasts — premised on an orderly Brexit — showed inflation rising just above target in the medium term.
In this situation, Mr Haldane said last month it will no longer be possible for the BoE to support economic growth and wages by keeping interest rates low.
The effects of Brexit uncertainty on companies' investment and productivity were "hits that monetary policy is not well placed to mitigate", he added.
Instead, Mr Haldane said it would be the job of government to "supercharge" the economy's supply side — boosting the rate at which it can grow sustainably without stoking inflation. Otherwise, just as UK wage growth was finally picking up, inflationary pressures would "snuff it out", he added.
This is a fourth part in a series about the state of the economy in the run-up to Brexit.