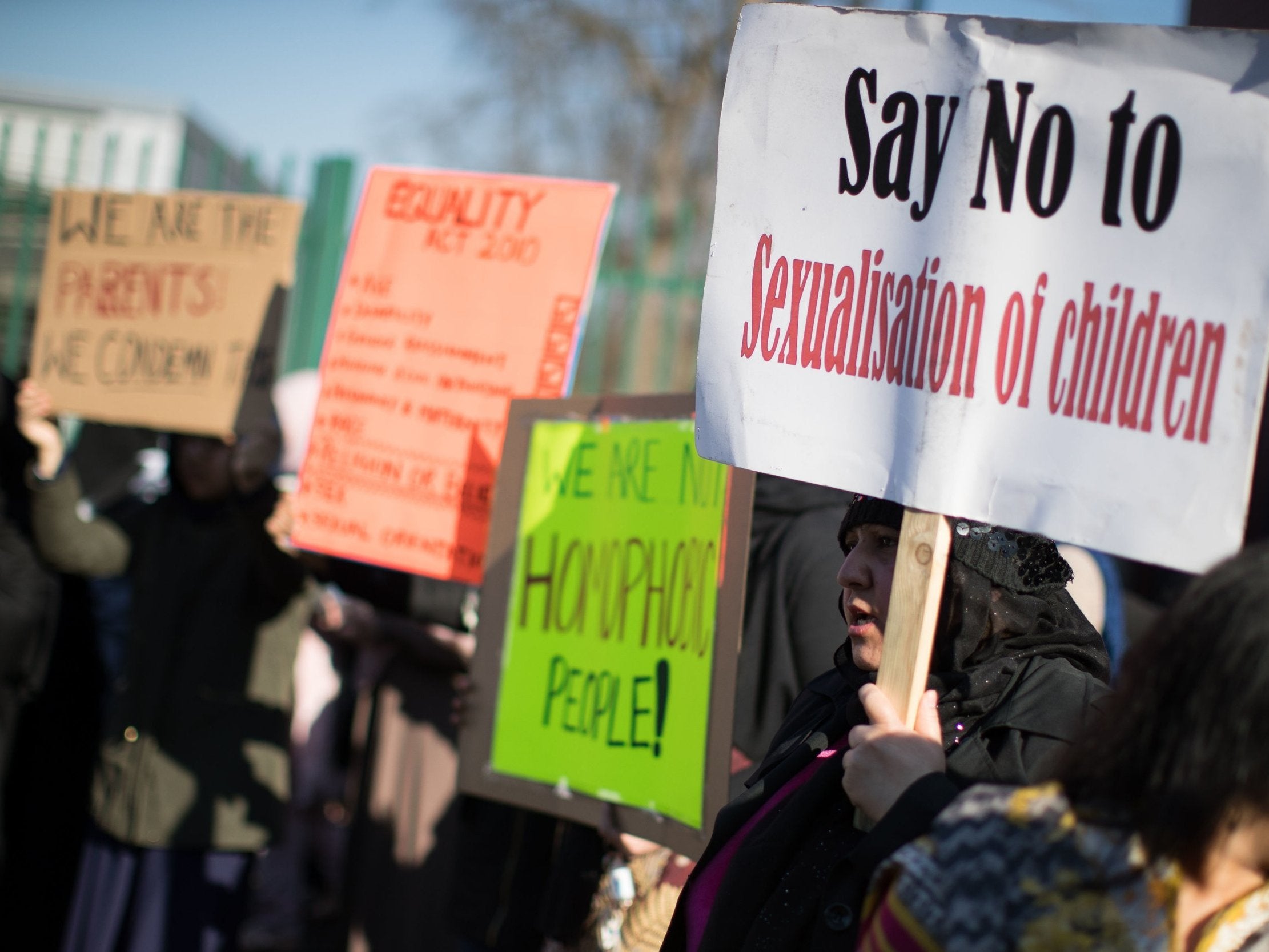 Protests over LGBT+ inclusive lessons are in danger of spreading across the country after they were banned in Birmingham, campaigners have warned.
Earlier this week, a High Court judge ruled in favour of a permanent exclusion zone around Anderton Park Primary School, which has faced regular demonstrations for teaching pupils about same-sex families.
Saima Razzaq, from a group which has attempted to build bridges with protesting parents since the row broke out, does not believe the opposition to same-sex relationships in schools will end, and could now start to be staged in other cities if the government requirement to consult parents on relationships lessons remains. 
Ms Razzaq, who is a queer Muslim activist and a member of Supporting Education of Equality and Diversity in Schools (Seeds), said: "The ruling is going to cause a lot of uproar and upset."
"I don't think [the ban] is going to be a solution to the issue. I do fear things are only going to get worse. The people who are protesting are not going to change their opinion overnight," she added.
Members of the LGBT+ Seeds group, which was set up following the protests, will continue to reach out to parents to ensure they understand what is being taught to stop misinformation being spread. 
"Community cohesion is going to become more important than it has ever been," Ms Razzaq added.
Protesters against LGBT+ equality teaching reacted with claims of "white" bias following the court decision on Tuesday – and have vowed to continue demonstrations outside the exclusion zone.
The treatment of the Muslim community during the so-called Trojan Horse inquiry into alleged Islamist extremism in Birmingham schools is likely to have prolonged the dispute, according to a former teacher involved in the scandal. 
Razwan Faraz, who used to be deputy head at Nansen Primary School which faced allegations of a hardline Islamist takeover, said parents do not want to give in as they fear a "whitewashing" similar to Trojan Horse. 
He said: "Some of these parents have expressed to me that during the Trojan Horse saga they didn't have a voice and they are almost entrenched in their position because of what happened last time.
"Should they cave in, in their words, then it will lead to a complete whitewashing like Trojan Horse did."
The events in 2014 are often the first point of conversation with protesting parents, Ms Razzaq added.
She said: "I agree with them the entire community was demonised but we can't use Trojan Horse as an excuse to sympathise with homophobic sentiment."
Earlier this month, the chair of the country's equality watchdog told The Independent schools should be free to teach children about LGBT+ relationships without consulting parents. 
It came after ministers previously said that schools should consult parents over their relationships education policies – which includes teaching about families with same-sex parents. 
Ms Razzaq said: "These parents have interpreted that in a way that means they can dictate the curriculum. That is why these protests started."
Statutory guidance on relationships education, produced by the Department for Education (DfE), says "schools must consult parents in developing and reviewing their policy" and it adds that it should meet the needs of "parents and reflects the community they serve." 
Ms Razzaq added: "What is Gavin Williamson going to do to empower teachers to teach equality? Until we clear these grey areas, people will be protesting up and down the UK."
The DfE has previously said that engagement between parents and schools is important – but it does not mean parents have a veto over curriculum content.
On the warnings from campaigners, the DfE declined to comment.