TAIPEI (ICIS)–Asia's methyl isobutyl ketone
(MIBK) market outlook in the second half is
weak amid longer regional supply, according to
market players on the sidelines of the Asia
Petrochemical Industry Conference (APIC) 2019.
In the week ended 14 May, prices were assessed
unchanged at $790-820/tonne CFR (cost and
freight) China, and at $810-830/tonne CFR SE
(southeast ) Asia – their lowest levels in more
than three years.
Domestic prices in
east China were at Chinese yuan (CNY)
7,100-7,200/tonne ex-tank, higher by
CNY200-300/tonne week on week. It marked the
first rise since ICIS launched the quote in
March 2019.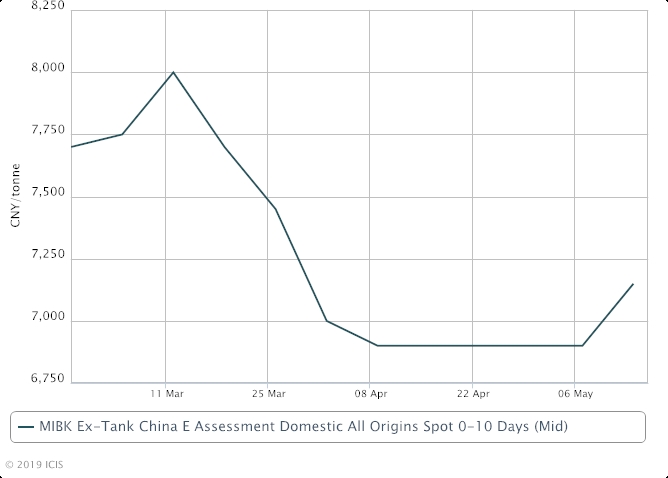 Market players
questioned the sustainability of the domestic
price uptrend in China and the possibility of a
boost in import prices.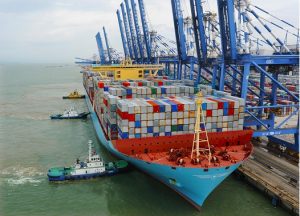 A container ship at
Nansha Port in China. (Source:
Xinhua/REX/Shutterstock)
This was because MIBK's regional supply had
lengthened, with
Kellin Chemicals starting commercial
production at its 15,000 tonnes/year line in H1
May.
The line has been operationally ready since
July 2018. The company delayed the
start-up due to stringent environmental checks
and amid poor margins, with import MIBK prices
hitting a three-year low in May 2019.
MIBK is a solvent for resins used in the
production of surface coatings, with the main
solvent applications coming from
transportation, refurnishing and marine
coatings, construction coatings, wood coatings
and metal coatings.
Market sentiment recently strengthened after
import prices of feedstock acetone rebounded from a
nine-year low.
Two other MIBK lines are operationally ready
but have not yet started up.
New MIBK plants in China
| | | | |
| --- | --- | --- | --- |
| Company | Location | Capacity (tonnes/yr) | Start-up dates |
| Kellin Chemicals | Zhangjiagang | 15,000 | H1 May 2019 |
| Yantai Wanhua | Yantai | 15,000 | Unknown |
| Zhuhai Long Success | Zhuhai | 15,000 | Unknown |
"We are keen to explore the possibility of
importing Kellin's MIBK, since its IPA volumes
are also available here," said a southeast
Asia-based buyer.
Some players expressed a lack of confidence in
feedstock acetone price uptrend sustainability,
given the high inventory levels, thereby
eroding optimism for the MIBK market.
"Usually MIBK prices follow acetone. If acetone
prices are weak, it is difficult for MIBK
prices to be strong," said a northeast
Asia-based distributor.
Kellin Chemicals is a subsidiary of Chinese
petrochemical producer Feixiang Group.
APIC is being held in Taipei on 16-17 May.
Focus article by Angeline Soh