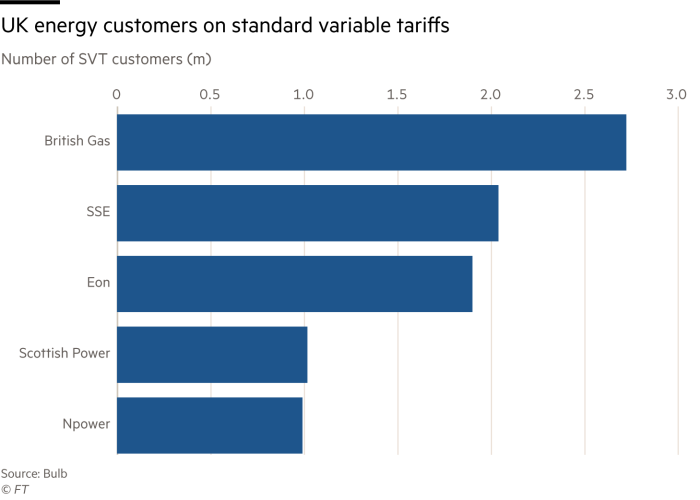 What does the chart show?
Nearly 10m households in the UK are paying their energy bills via standard variable tariffs. These are the rates customers default to when any special energy deal runs out and are usually the most expensive around.
A customer could be put on a standard variable tariff if their fixed-term tariff contract ends and they have not chosen a new one; this usually occurs after around a year.
The average price of a standard variable tariff from the largest six suppliers for a typical dual fuel customer is £104.50 a month, or £1,254 a year. This £1,254 figure represents an increase of more than 20 per cent on the 2012 price.
What is this costing consumers?
Nearly £2.2bn in savings on energy bills has been lost this year by consumers paying via standard variable tariffs, according to Bulb, a challenger energy company. Its research shows customers on standard deals with the "Big Six" energy suppliers will pay £220 more over the course of a year than if they had switched to a cheaper available deal.
Why are people overpaying?
Not enough people are bothering to change supplier. The cheapest deals on offer are usually available to new customers, so it is well worth changing supplier regularly to save money. Yet the bulk of customers stick to the same supplier and end up paying hundreds of pounds more.
This isn't just because of the extra time and effort required to switch. Asked why people are reluctant to change supplier, Natalie Hitchins, head of home products and services at consumer group Which?, said: "We've heard from many customers who have faced problems with switching, such as receiving incorrect bills or facing a long wait to get a refund — so it's not surprising that some people are put off moving suppliers."
The overall number of those switching is nonetheless on the rise. In April 2019, electricity and gas switches reached a record high, before falling off in May and June. In the 12 months to June 2019, the number of domestic switches for electricity was 11 per cent higher than in the 12 months up to June 2018, and for gas it was 8 per cent higher.
How reasonable are standard variable tariff prices?
In January, Ofgem introduced price caps to ensure that consumers pay fairer prices for their energy and are protected from being overcharged. Prices at the Big Six for standard variable tariffs quickly congregated at the limit of the cap. When the cap was updated in April, prices moved to match it; following another revision as we head into winter, prices have been reset again around the limit.
Charges are lower than they would be without the price caps, but standard variable tariffs are nearly always set at the maximum amount allowed. Much cheaper tariffs are available in the market and are being vastly under-consumed.
Hayden Wood, co-founder and chief executive of Bulb, said: "It's clear the Big Six treat the cap as a target and not a limit, consistently setting their standard tariffs at the maximum allowed. It's disappointing to see families continue to get a poor deal on their energy as a result of this practice."